Date de sortie :
1975
Notes :
LP sorti le 28 février 1975 (RCA APL1 0681)
Cd sorti le 18 novembre 1997 (Snapper Music / DeadQuick Music SMMCD 504)
Le cd contient les titres bonus suivants :
10. Seven Days (Original B-Side) (Previously unreleased) 2'44"
11. Stone Love (Soul Love) (Bonus track) 3'30"
12. I'd Rather Be Me (Bonus track) 4'54"
13. Life on Mars (Previously unreleased) 4'14"
14. Pain in the City (Previously unreleased) 3'45"
15. Dogs (French Girl) (Previously unreleased) 3'49"
16. Seven Days (Alternate take) (Bonus track) 6'01"
17. 28 Days Jam (Previously unreleased) 6'23"
18. Woman (Alternate take) (Previously unreleased) 3'32"
Cd resorti le 31 mars 2003 (Snapper Classics) au Royaume-Uni
Cd resorti le 7 février 2005 (VPCK-85352) au Japon
Les versions 2003 et 2005 contiennent également les titres bonus mais ont une pochette légèrement différente :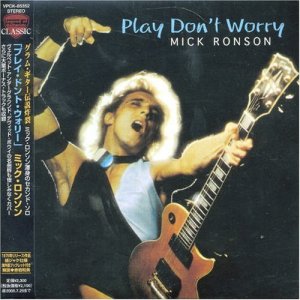 Il s'agit du 2ème album solo de Mick Ronson. Bowie avait enregistré "White Light / White Heat" pour l'album "Pin Ups" mais le titre n'a pas été retenu. Il a ensuite donné la musique enregistrée à Mick Ronson pour qu'il l'utilise dans son album.
L'album est produit et arrangé par Mick Ronson pour MainMan.
Les musiciens sur l'album sont :
Mick Ronson : guitare, basse, batterie, harmonica, piano, clavinet, synthesizer, voix
Jeff Daly : saxophone, flutes
Neil Kirnon : arp synthesizer
Paul Francis : batterie
Mike Garson : piano
Trevor Bolder : basse
Richie Dharma : batterie
Aynsley Dunbar : batterie
Tony Newman : batterie
John Mealing : piano
Ian Hunter : backing vocals sur "Girl Can't Help It"
Vicky Silva : backing vocals
Beverly Baxter : backing vocals
Miquel Brown : backing vocals
David Hentschell
Sid Sax
Margaret Ronson
The Microsn
L'album est engineeré par Dennis Mackay, Peter Fielder, Ted Sharp, Ray Hendrickson et Ian Major.
Les titres 1 à 10 ont été enregistrés et mixés aux Strawberry Studios à Juan-les-Pins et aux Trident Studios à Londres en 1974 par Ray Hendrickson et Mick Ronson.
Les titres 11 à 15 ont été enregistrés et mixés aux Sundragon Studios les 13 et 14 décembre 1975.
Les titres 16 à 18 ont été mixés en août 1997 aux Dana Studios à Londres par Lestyn.
La remasterisation a été faite aux CTS Studios à Wembley par Lestyn.
On pourra se reporter à l'album
Slaughter On 10th Avenue
où est décrit la compilation "Only After Dark" qui contient également "White Light / White Heat" enregistré avec David Bowie.
Ce titre apparaît également sur l'album live "Showtime" sorti le 26 juin 1999 (NMC PILOT 16X).
1. Crazy Love 6'32"
2. Hey Grandma 5'05"
3. Takin' a Train 6'30"
4. Junkie 3'30"
5. I'd Give Anything to See You 5'28"
6. Hard Life 5'14"
7. Just Like This 7'11"
8. Sweet Dreamer 6'55"
9. FBI 4'44"
10. White Light White Heat 4'51"
11. Darling Let's Have Another Baby 2'48"
12. Slaughter on 10th Avenue 8'32"
Il apparaît aussi dans la compilation "Burning Collection" sortie le 22 octobre 2001. Il s'agit en fait d'un box de 3 cds regroupant les albums "Indian Summer" (31 janvier 2000), "Showtime" (26 juin 1999) et "Just Like This" (15 mars 1999).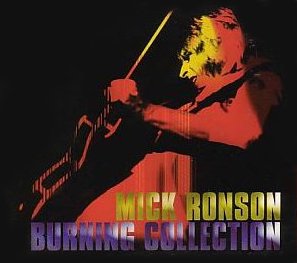 Il apparaît aussi dans la compilation "Hard Life" sortie le 22 avril 2003 :
1. Crazy Love
2. Hard Life
3. Plane to England
4. Indian Summer
5. I'd Give Anything to See You
6. Slaughter on 10th Avenue
7. White Light White Heat
8. Just Like This
9. Sweet Dreamer
10. Hey Grandma